What's the Best Flooring for Your Bathroom?
The main priorities took look for when planning your bathroom flooring is to ensure it's anti-slip and able to resist wear and tear such as water damage, so it's important to choose wisely!
The best bathroom floor tiles include vinyl, lino and ceramic tiles. Water-resistant choices such as vinyl and laminate are great options if you're on a budget and are looking to create a seamless effect. However, if you want to create a statement with your floor tiles, mosaics or ceramics will allow you to get creative and turn your bathroom floor into a feature.
Wooden Flooring
Alexa Wheeler, design expert at My Bespoke Room suggests:
"Wooden flooring is a beautiful option for period properties and can be an excellent softer alternative to ceramic tiles as at times these can feel a bit clinical. Wooden flooring in bathrooms isn't the most durable option though it has to be said, as it can stain if water is left on it too long and with constant fluctuations in temperature and humidity, the boards could warp.
This isn't to say it's not an option though! Engineered board options are better suited due to how they are constructed with layers of ply beneath. Be sure to check the product details before purchasing as the supplier will usually make it clear if it's been treated and is suitable for use in bathrooms.
Also, keep it away from wet rooms and heavy splash zones, like family bathrooms with young children!
Plywood
WBP Ply, which is a type of plywood, is a perfect underlay for bathroom floors, especially wet rooms, as it is of the utmost quality and provides a durable base with a moisture barrier. This option however isn't the most straightforward to install, as your floorboards will need to be taken up and supported with floor formers before the ply lining. 
Plywood was traditionally limited to floor underlays, but it's now used as a cost-effective flooring finish as well. Pressure treated plywood can be used on its own as it is water resistant and will withstand the humid temperatures that are common in bathrooms.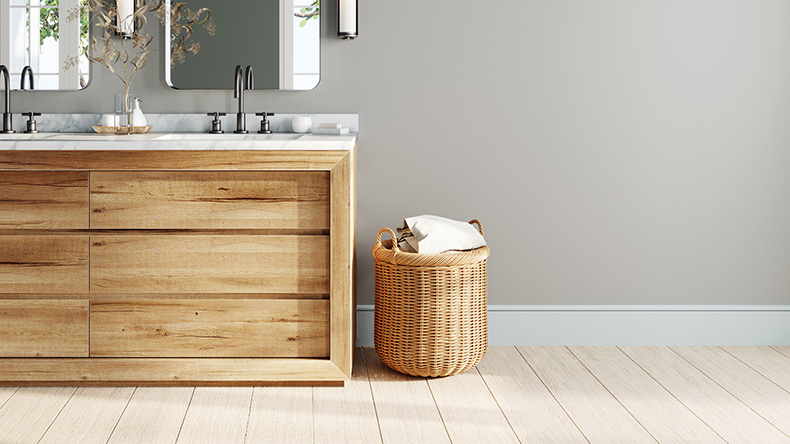 Luxury Vinyl Tile (LVT)
Does the word 'vinyl' fill you with horror? Well stick with us - it's not the vinyl of old! They've stuck the word 'luxury' in front, after all.  LVT tiles are very realistic alternatives to wood or stone (sometimes you can't even tell the difference) with the added benefit that they're water resistant, easy to maintain and durable - a win win.
Polished Concrete
Alexa from My Bespoke Room continues,
"An increasingly popular option for bathroom flooring is polished concrete which gives a beautiful seamless look without any grout lines. It's also easy to clean and won't be damaged when wet. The cons are that it's cold underfoot (similar to porcelain tiles) and could also be slippery if not treated in the appropriate way. 
There is also a question of whether your bathroom is structurally capable of holding concrete, even just a thin pour. In common timber framed homes installation would be extremely costly and complicated. Don't despair though, the next option could be the one for you."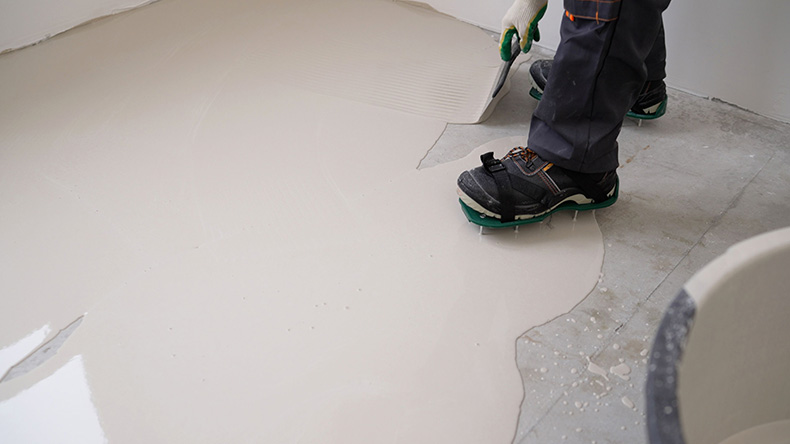 Porcelain vs Ceramic Tiles
Porcelain and ceramic tiles are the most popular options for bathroom flooring as they have great waterproof properties.
Ceramic tiles are made from brown or red clay and tend to be more lightweight than porcelain. Ceramic absorbs more water than porcelain and it has a softer appearance. These tiles tend to be cheaper than porcelain and are available in a vast array of colours and patterns.
Porcelain is made from white clay and is slightly more premium and durable, making it a great option for wet rooms as the material repels water more effectively. Porcelain does come at a higher cost but a great hardwearing option if you're not on a tight budget.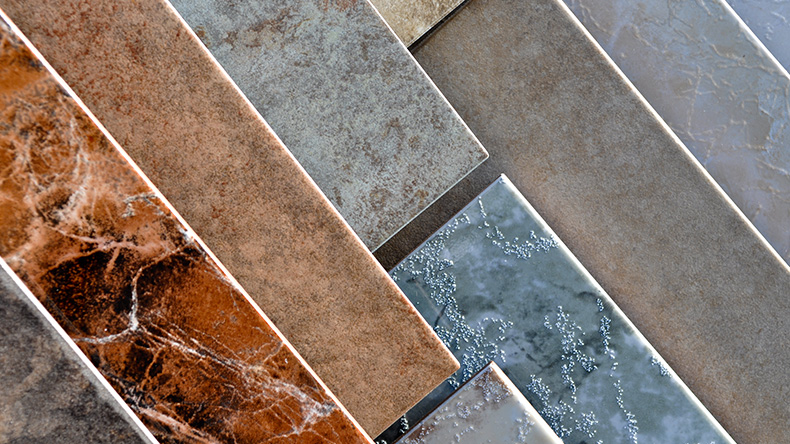 Marble Floors
Marble is an expensive material compared to other natural stones, but it has a quality, luxurious finish that many people crave in their bathrooms. Marble flooring and surfaces will give the appearance of a spa-themed bathroom due to its natural, bright white look.
Marble is a popular choice for surfaces and floors, but it requires attention to detail when cleaning to keep it pristine. Due to its porous nature, it can be prone to staining and scratching, so it's crucial to take your time when cleaning and avoid any harsh chemicals and materials to prevent damage. Marble doesn't have as much grip as other more popular flooring options such as vinyl, so is not recommended for family bathrooms that small children may be using.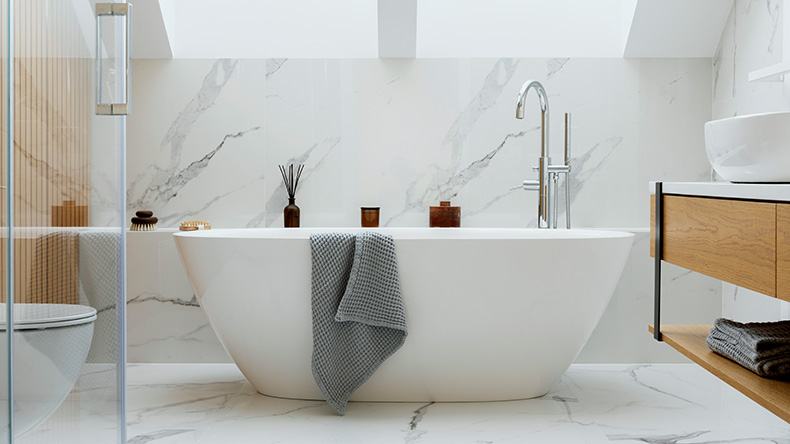 Waterproofing Tips
To ensure your floors are resistant to water-damage, vinyl or mosaic tiles are the way to go! Vinyl locks together tightly and prevents water from seeping through, thus it's a wonderful choice for bathrooms and kitchens, as these are the areas that are likely to get wet the most. Mosaic floors are also a great choice as they're non-porous and anti-slip. 
Even if your bathroom floor tiles are waterproof, it's important to invest in a bath mat to reduce moisture on the floor after a shower or bath - this will help to keep your tiles in good condition.
Best Tiles for Underfloor Heating
Most tiles are suitable for underfloor heating, including ceramic, porcelain, vinyl and wood flooring. Although tiles are robust and hard-wearing, they still conduct heat well and won't affect the performance of your underfloor heating. Tile thickness shouldn't affect the heat output, however if your tiles are thicker than 20mm it could increase the heat-up time.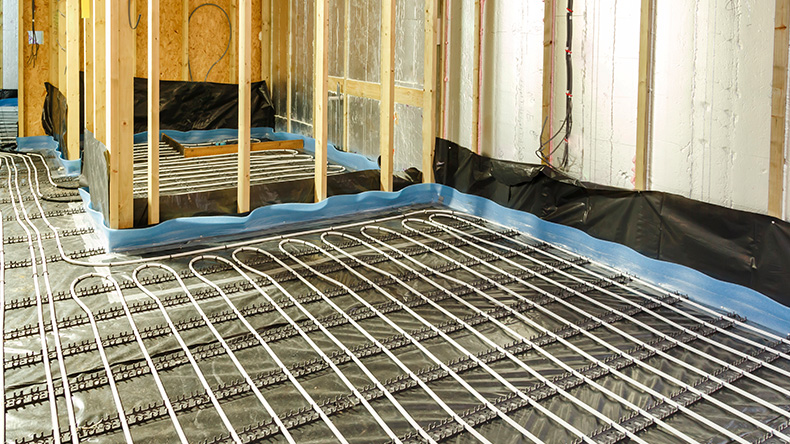 Patterned Floor Tiles
If you're looking for more abstract floor tiles, designs such as scintilla tiles, terrazzo and checkerboard tiles are great options to add more character and depth into your bathroom design. More people are opting for feature floors instead of classic feature walls, which will certainly make a statement in your space. 
Patterned floor tiles look best in bathroom schemes that are minimalist and simple, as too many colours and textures will make your bathroom appear too busy.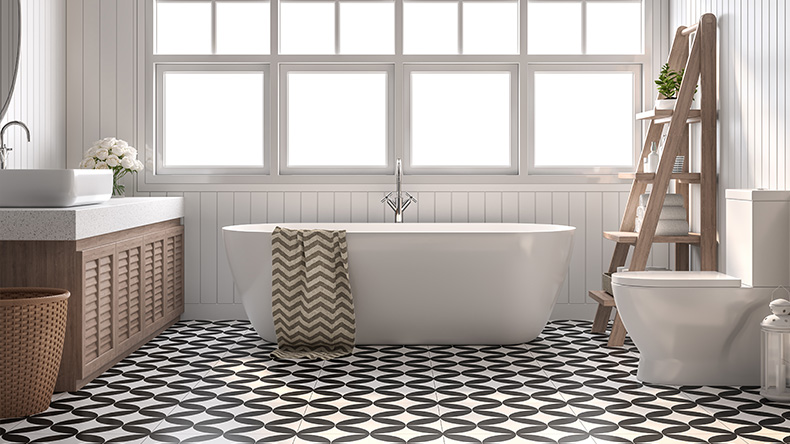 Temporary Bathroom Flooring
If you're not in a position to be able to change your bathroom floor tiles, for example if you're living in a rental property, you can purchase vinyl floor cloths for a temporary fix. These self-adhesive sheets are as easy to place down as they are to remove, and are available in a range of authentic designs, colours and can be cut to size!
Budget Friendly Floor Tiles
The best cheap floor tiles for bathrooms if you're on a budget are vinyl and laminate floors. These types of flooring are a popular choice for many rooms in the house, especially bathrooms, as they're cheap, easy to lay down and come in an array of styles and patterns.
Out of these two options, vinyl tends to be more waterproof - sheet vinyl, vinyl tile and luxury vinyl flooring are usually made with properties that are completely waterproof, whereas laminate flooring can be prone to water damage and swelling if not looked after. Therefore, if you're looking for cheap floor tiles that will stand the test of time, we recommend vinyl tiles.
Cleaning Bathroom Floor Tiles
To ensure your bathroom tiles stand the test of time, it's important to clean them regularly. To clean most types of flooring, regularly sweep the floors to remove dirt and dust, and go over with a soft mop and detergent. For tougher stains, household ingredients such as apple cider vinegar or bicarbonate of soda will do the trick to remove dirt and grime.
---
If you're looking for more bathroom tile inspiration, check our our guide on small bathroom tile ideas to discover the best ways to maximise space in small rooms.