Relaxing in a spa can often seem to be the only thing that can really boost our mood and well-being, yet spa days are a time-consuming and eye-wateringly expensive way to spend a weekend. Sometimes the most luxury we can squeeze out of our day is a 2-minute shower while we're waiting for the kettle to boil.
Creating your very own spa bathroom is an ideal way to ensure that self-care stays top of your list. While it may not have quite the same effect as an hour-long massage, knowing you have a beautiful room waiting for you at home can do wonders for your mood. Setting aside just 30 minutes a few times a week is enough to soothe the soul after a long day.
Creating a spa bathroom needn't be expensive or difficult. While there will be a few initial costs; once you have added a few spa-like products or features to your bathroom, getting that luxury experience will be totally free. By focusing on a few luxurious items or simply having a tidy up, you can easily integrate that spa hotel feeling into your bathroom.
From bathtub blowouts to an array of scented candles, here's our guide to creating your very own spa-inspired bathroom.
Luxury Soft Linens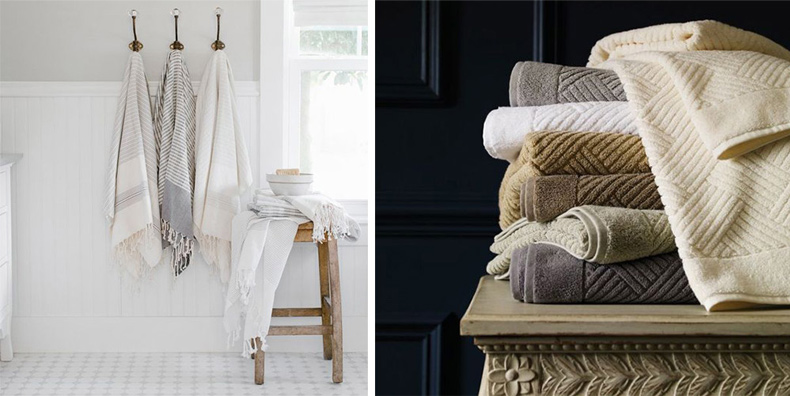 Having a long soak is usually relaxing until you remember that "buy new towels" has slipped way down on your list of priorities. There's nothing quite like a fluffy warm towel helping to create a spa style bathroom.
Updating your bathroom towels and rugs is such an easy way to transform your bathroom experience. White, fluffy towels straight from the radiator is the perfect accompaniment to a long soak, and really gives that holiday-in-a-fancy-hotel feeling. Drench have a huge range of heated towel rails which will ensure you stay cosy and calm long after you get out of the bath.
Remove Clutter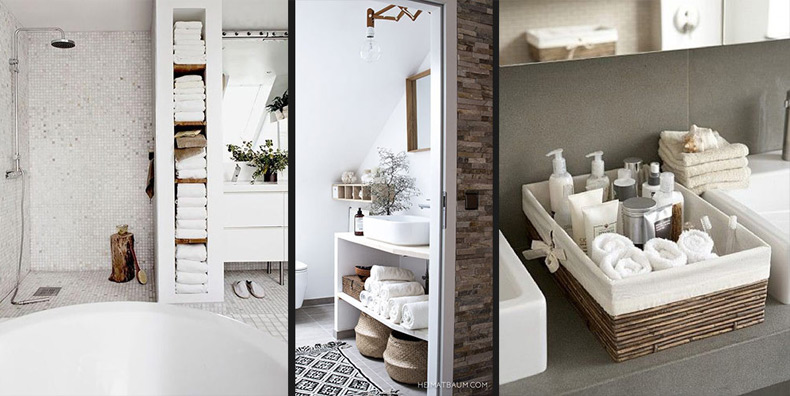 Tidy room, tidy mind! De-cluttering should be the top of everyone's lists when it comes to giving your bathroom that spa-like feel. Are you ever truly relaxed when surrounded by half empty bottles of shampoo and conditioner? We don't think so.
De-cluttering doesn't necessarily mean getting rid of everything. In fact, investing in some luxury storage cabinets to hold all your bits and bobs is a great way to add a little character to your bathroom while also creating more space. While stashing away all your bathroom goodies may seem like a mundane task, it's worth it for that post-clean feeling. The right storage can double up as beautiful fixtures too, so it's worth putting some time into figuring out what's best for you. Drench have a range of wooden or glass shelves, or if you want to splash out, why not invest in a new bathroom cabinet?
Other great ways to store products that mirror that of a spa are wicker baskets. These can neatly display folded hand towels, soaps and lotions for easy access and are an extremely cost effective way of creating a spa-inspired bathroom.
Mixed Metals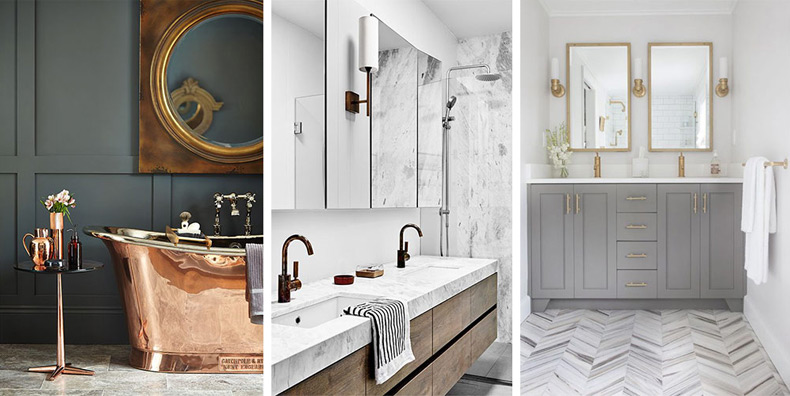 Mixed metals are in - especially when it comes to bathrooms. Mixing warmer metals like gold and brass, with cooler metals like chrome or nickel will give your bathroom a wonderfully boutique and luxurious look. While mixed metals used to be a total no-no in bathroom design, they are now an absolute yes-yes when it comes to creating that perfect spa bathroom bringing character, warmth and style to the room.
However, just because mixed metals are in doesn't mean anything goes. When it comes to metals, especially in a smaller room like the bathroom, it's best to have one dominant metal finish, combined with one or two smaller accents.
One of the best ways to integrate metals into your spa bathroom is by getting creative with your taps. Many baths, sinks or showers require you to buy the taps separately, and this is the ideal time to get creative. Check out Drench's full range of basin and bath taps in a huge range of finishes. Pairing warmer coloured taps with chrome or nickel accessories is just enough to get that spa look without going overboard.
Mood Lighting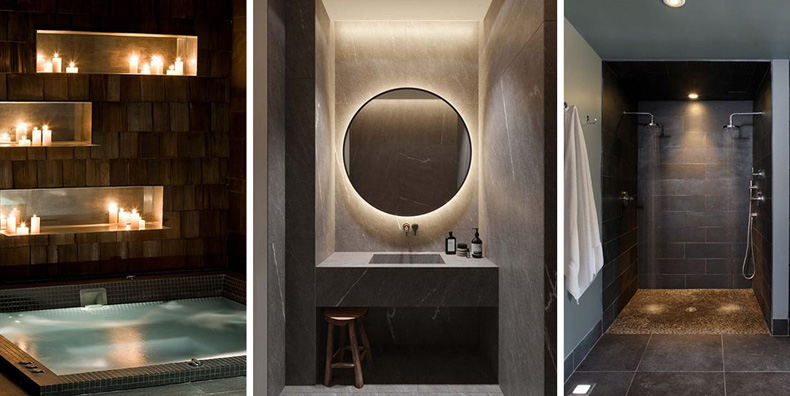 Avoiding harsh lights is one of the key parts of creating the perfect spa bathroom. Instead, you want soft glows and mood lighting. While early mornings may call for bright lights and speedy showers, evenings spent in your spa bathroom require the total opposite. That's why it's important to give yourself the option for both.
Plenty of our mirrors and bathroom cabinets contain LED lights which can be turned on by a wave of the hand, but the simplest way is to use a dimmer switch, meaning the brightness can be easily adjusted. Dimmer switches can change the atmosphere of a room in seconds, taking you from morning wake up to total relaxation with very little effort.
Complementary Greenery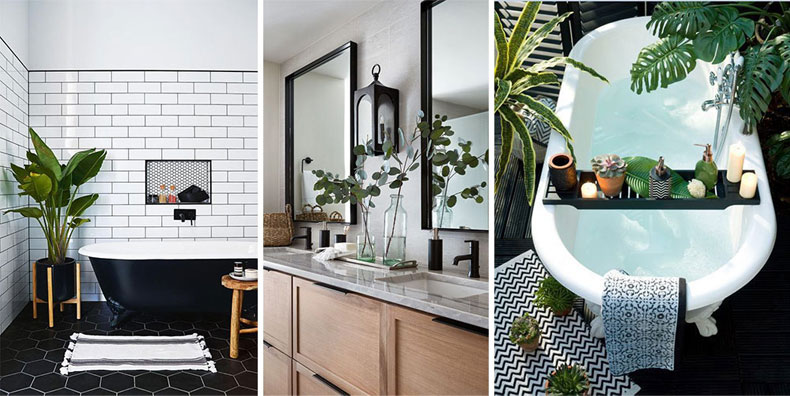 Never underestimate the power of an indoor plant! Indoor greenery will increase oxygen levels in the air, lower heart rate and blood pressure, reduce fatigue and finally help decrease anxiety. The overwhelming effect indoor plants can have on our mood make them a key component when it comes to creating a spa bathroom.
The best part about indoor plants is that they look great with anything. If you're lacking in space, a smaller plant will squeeze onto the smallest of surfaces, or if you've got the luxury of space go for something bright and bold!
Serene Neutral Colours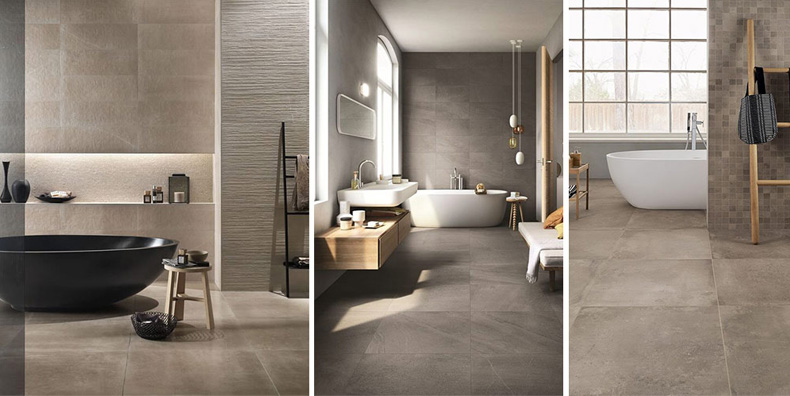 Spas never have bright colours and in-your-face patterns, and there's a reason for this. While they may work brilliantly as showstoppers, when it comes to relaxation; simplicity and minimalism is key - which is why serene, neutral colours are the way forward.
Earthy colours like browns, greys and greens will give your bathroom a lovely organic feel in the same way as indoor plants. Neutral colours like whites, beige and light grey will help make your bathroom look bigger. Less is more - pairing neutral colours with warmer gold or brass accents is the perfect way to embrace minimalism while maintaining that warming spa-like atmosphere.
Upgraded Rainfall Shower Heads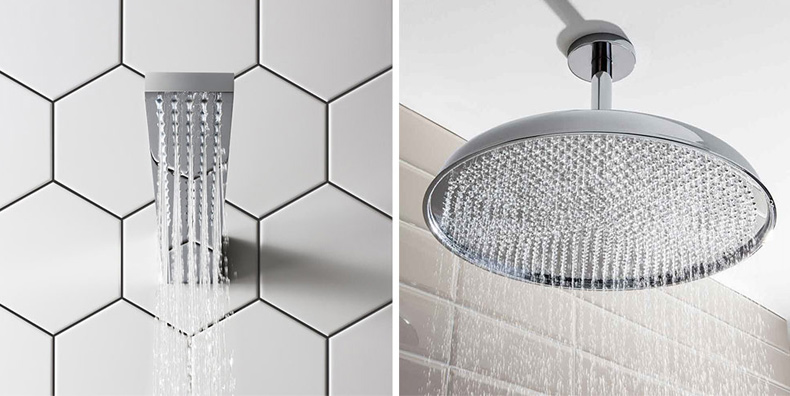 Just because you don't have the luxury of a bath doesn't mean you need to miss out on the spa experience. If your bathroom is slightly smaller and you only have a shower there are still things you can do to ensure self-care and relaxation remain top of your list. Investing in a massaging shower head won't take up much space and is guaranteed to help you relax.
We have a huge range of shower heads to rival those you might find in a luxury hotel. Paired with some deluxe shower products and a towel fresh from the radiator, you won't miss having a bath at all.
Finishing Touches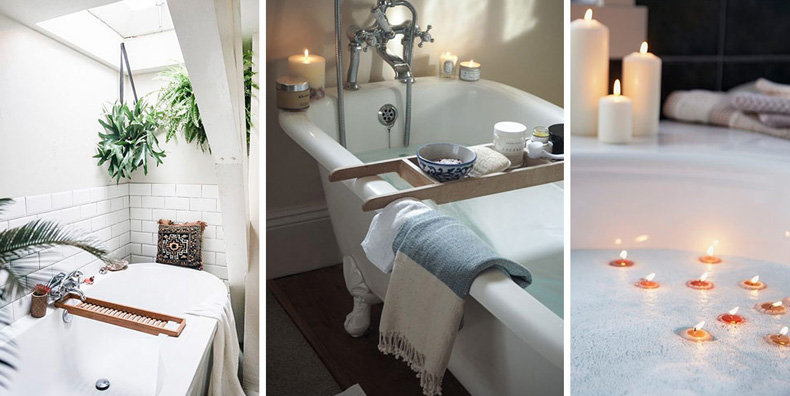 Finally, we've got the finishing touches. These are the little pieces that may not say much on their own, but when paired with other features and products really make your spa bathroom that extra bit special.
Scented candles are one of the best ways to add a little more luxury to your bathroom. Relaxing in a tub surrounded by candles will create the perfect atmosphere for you to unwind. Or, if you're not so keen on open flames, a simple reed diffuser or some essential oils will do the same job, filling your bathroom with aromatic, relaxing scents of your choice.
Another good way to instil a little calm into your bathroom is to play music. Even something as simple as your morning shower can be made that little bit better by the addition of your favourite songs. However, when it comes to creating a spa like experience in the evening, calming playlists are the way to go. Many bathroom fixtures now have in-built Bluetooth speakers meaning music can be played directly off your phone into the room. Create a meditation-type playlist of soft tunes, and settle down for some much-needed self-care.