These cosy bathroom ideas will have you wanting to make your bathroom as snug as possible ready for the colder months. With these tips and tricks you'll learn how to achieve a cosy, inviting bathroom that's perfect for winter, with a focus on warm tones, natural wood furnishings and the perfect heating that will avoid a cold, washed out feel and truly transform your space. 
Heating
The key to a cosy bathroom is getting the heating right. Underfloor heating is a great option in most bathrooms, especially larger rooms that can be open and draughty, so the underfloor heating will aid with demisting your bathroom, and also preventing mould and mildew. There's nothing worse than stepping onto cold bathroom tiles first thing in the morning, so this heating option will prevent this problem and add a touch of warmth.
You can also go for a heated towel rail if you want to ensure your towels are warm and soft, and we have plenty of options here at Drench to suit any style and space.
Luxury Accessories
Soft linens, good quality fluffy towels and bath mats are lovely finishing touches that will make your bathroom feel cosy and warm, to make the chore of getting out of a warm shower is not so difficult! Avoid storing towels in stacks as this will cause the bottom towels to be crushed by the ones above and they'll get rough over time, so either roll them up when storing or keep them on heated towel rails to ensure they're kept bone dry and soft for all times of day.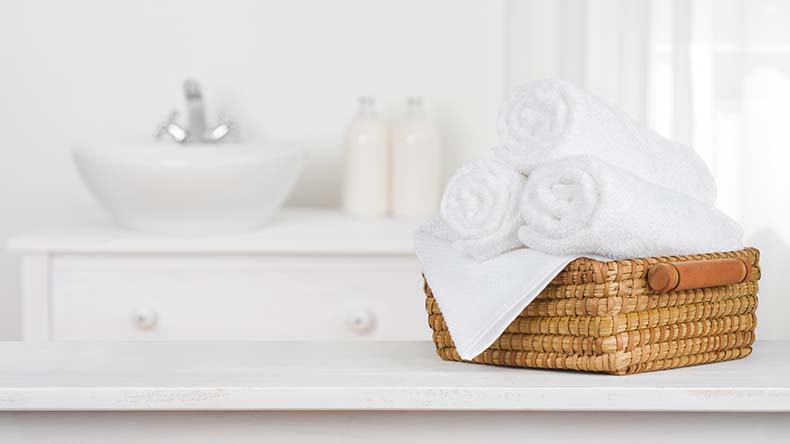 Warm Colours
If you have a large bathroom, it can often appear too spacious and unhomely, but by introducing plenty of cosy bathroom colours such as oranges, terracottas and browns, you can warm up the decor and create a bathroom that's much more inviting. Avoid bright colours and experimental tiles and go for a simpler vibe, with neutral colours and warm gold or brass accents to create that dreamy spa-like atmosphere.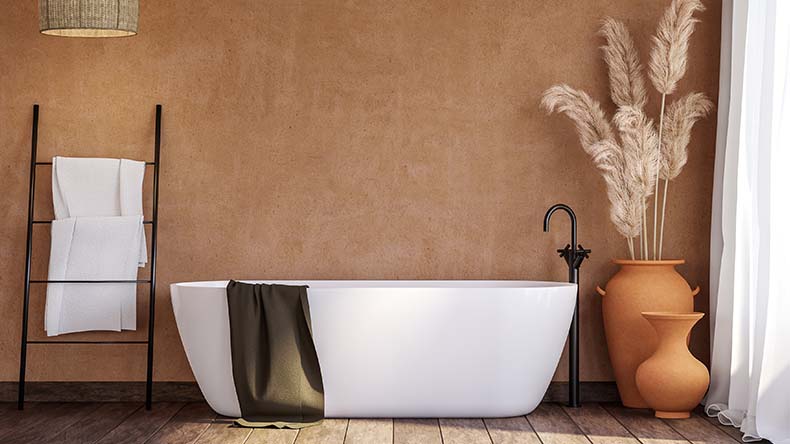 Brass Fittings
Brushed brass and gold fittings are great for adding a touch of warmth and sparkle to your bathroom. More people are opting for brass accents instead of other finishes such as classic chrome, therefore giving a more modern feel to the space.
You can incorporate brass into your bathroom with elegant taps and shower arms and this finish pairs beautifully with neutral wall colours and woods.
Lighting 
The best lighting for bathrooms includes a range of lighting sources that will suit all times of day. Ambient lighting is great for relaxing evenings, but brighter lighting will be required for early mornings when you require more vibrancy to get ready for the day. If you want a warm, cosy vibe, it's important to avoid harsh lights and go for soft glows instead; dimmer switches will change the atmosphere of a room in seconds, taking you from morning wake up to total relaxation with very little effort. Add a few candles around the space for a super relaxing and indulgent bath - which will also save on your electric bill!
Natural Woods
Incorporating light and dark woods into your bathroom will warm up your space, adding a Scandinavian, biophilic feel and a welcoming touch to your bathroom. Light woods are great for adding a subtle, natural effect whilst dark woods add a more luxurious, dramatic feel. Incorporate woods in your bathroom through vanity units, shelves, picture frames and bath racks - and there really is nothing better than cosying up in a bath on a cold day.
Rainfall Shower Heads
A luxury rain shower head will set you up for the ultimate shower experience, as if you're in a spa! Nothing quite beats the feeling of being drenched under a rainfall shower head, and it really will brighten up your morning, leaving you feeling relaxed and rejuvenated. This is the ultimate solution for a cosy shower and will leave you never wanting to leave!
Plants
You can also create a cosy calm with an array of bathroom plants - the best plants for bathrooms include dragon plants, spider plants and peace lillys. Houseplants add a therapeutic touch to space and also have health benefits in increasing oxygen levels and reducing fatigue! Since plants come in a range of sizes, from large leafy plants to small succulents or hanging plants, they will work in any sized bathroom and ensure that your bathroom is super welcoming to guests.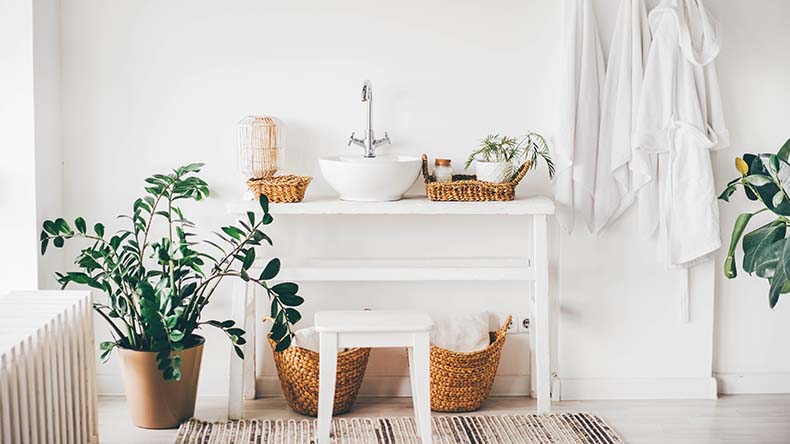 Keep it Clutter Free 
Decluttering your space should be one of the first tasks you do when making your bathroom cosy ready for winter. Decluttering your bathroom will help to save countertop space and make for a more peaceful, relaxing environment without staring at half empty shampoo bottles and products taking over bathroom surfaces.
---
We hope these cosy bathroom ideas have given you some inspiration to make yours a little more inviting, without the need for a huge budget! Cosy bathrooms can be enjoyed all year round, not just in the colder months, as the main focus is to create an open, inviting atmosphere.