Countertop basins are becoming a popular choice in both modern and traditional bathrooms, thanks to their minimalist feel, simplistic nature and easy-ish installation. They can be styled to suit a wide range of different bathrooms, offering something slightly different to your average bathroom basin, as well as ample room to store your toiletries. Make your bathroom the talk of the town (in a good way!) with our ultimate guide to countertop basins.
What is a Countertop Basin?
A countertop basin is essentially a basin mounted directly onto a level surface - such as a vanity unit or wall hung basin shelf. They look almost like a large dish or bowl, offering a stylish alternative to regular basins. Countertop basins do not connect to the wall at the back, and come in a number of shapes, sizes and designs. Whilst they generally look sleek and modern, those with a more traditional style bathroom can easily find something more timeless to fit.
Choosing a countertop basin for your bathroom can be exceedingly difficult, but only since there are so many beautiful designs available at varying prices. Small countertop basins suit smaller bathrooms or if you have more space, you can afford to be slightly more extravagant, perhaps opting for a countertop basin vanity unit which has the added bonus of built-in storage.
Whilst the world truly is your oyster when it comes to choosing a stylish countertop basin, we're here to give you a hand if you're struggling slightly! Here's all you need to know when it comes to installing a countertop basin in your bathroom, as well as a few of our favourite designs.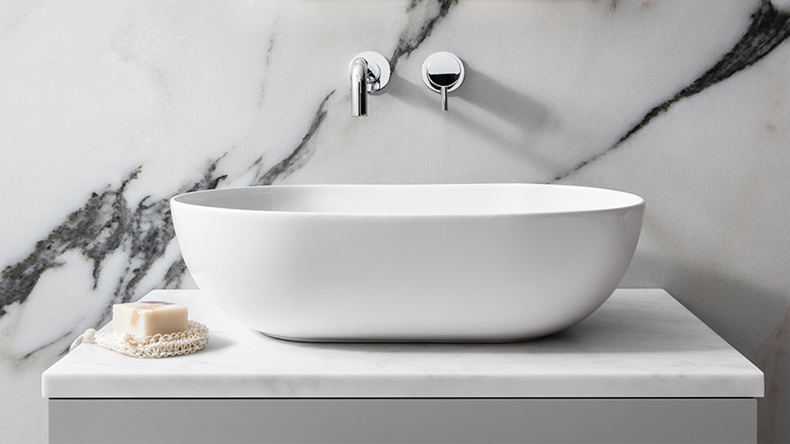 Are Countertop Basins Easy To Install?
Installing a countertop basin isn't a totally stress-free job, as it does require a few basic DIY skills. If your DIY-days started and ended the time you struggled to put together a desk chair from IKEA (we're sure that this is harder than it looks), then it might be worth calling in a professional.
Where Can I Install A Countertop Basin?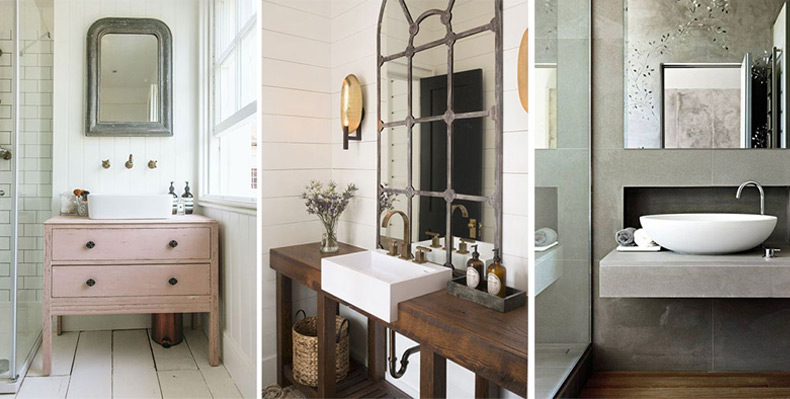 What Taps Can I Have?
The good news is that you don't need specialist taps for your worktop-mounted basin - which makes choosing your own preferred style and shape that little bit easier (or harder if you struggle with decision making).
Some countertop basins feature a tap hole which enables you to mount your choice of basin mono mixer. The vast majority however, are best paired with a wall mounted basin mixer or tall basin tap. Many standard basin taps come with an 'extended' version, so it's worth double checking if you've got your eye on a particular shape.
Countertop Basin Styles
Oval Counter Top Basins
Oval countertop basins are the ultimate modern luxury. Clean and minimalist, oval basins make a statement but in an extremely subtle way. Paired with a minimalist styled bathroom and neutral tones, oval countertop basins will create that spa-like bathroom feel so many people crave.
Our favourite of the oval shapes is this Hudson Reed model. It's bold, bright and modern, uniquely setting your bathroom apart from others. This basin is made from ceramic china meaning it's durable, strong and smooth, despite its delicate look. The glossy white finish looks great in both a neutral bathroom and something with a little pop of colour.
Round Counter Top Basins
If you fancy something even more modern, why not opt for a round countertop basin? These certainly make a big statement, and wouldn't look out of place in a boutique spa or luxury hotel. Our favourite is the Drench Lexie round basin which looks perfect in a monochrome styled bathroom.  While the shape is simple, the impact is anything but, making this basin the perfect addition to any modern bathroom.
In terms of durability, the Butler & Rose Audrey Stone Resin Countertop Basin ticks all the boxes and just so happens to be one of our very best sellers! The ceramic material makes it strong and smooth, while the glossy white finish keeps things sleek and stylish.
Rectangular Counter Top Basins
Next up we've got the Clearwater Vicenza Natural Stone Countertop Basin which, we'll be honest here, is a little more of an indulgence. It's made from luxurious natural stone, making this countertop sink the perfect addition to an avant-garde bathroom space.
Rectangular countertop basins are effortlessly beautiful, and you don't need to spend a fortune to experience the ultimate luxury that these create. This Clearwater Vicenza basin really does add something different. The smooth, curved corners keep the product from looking too harsh, and it's the perfect size to wash your face without flooding the entire bathroom!
The natural stone has been hand polished for over 10 hours which makes it beautifully soft to touch. The waste and taps are sold separately, again, giving you the option to style it as you wish. Pairing it with a Clearwater freestanding bath will make your bathroom the standout room of the entire house.
Looking for something a little bit different?
Shape may be one thing but what about taking another step and delve deeper into design and aesthetic led basins? These are just a snapshot of the unique and beautiful countertop basins available here at Drench. We especially love this Vos Round Stainless Steel Basin in a brushed brass finish - it just oozes style points. And for something a little more chic and sophisticated rather than designer, we love the matte black option from Harbour. There really is no limits to your choices and everyone can find a countertop basin to match their own interior vision.
Countertop Basin Vanity Units
If you're sold on the idea of a countertop basin but don't quite know where to begin, then a countertop basin vanity unit could be the purchase for you. These offer all the benefits of a countertop basin - including good storage, and a beautifully stylish look, without the stress of having to install the actual basin yourself.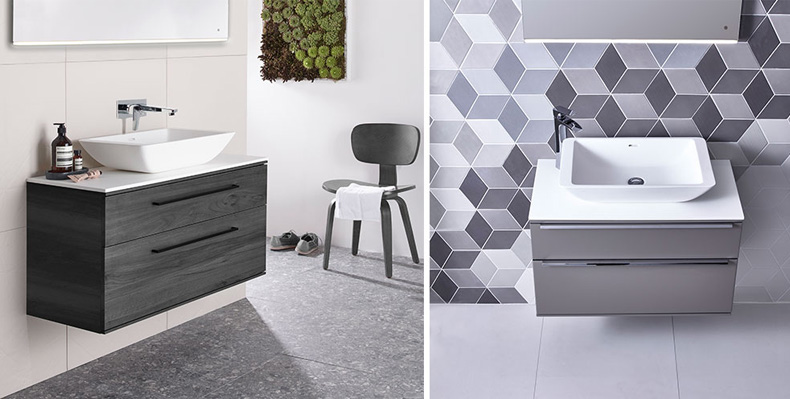 Drench have a whole array of countertop basin units, ranging from cloakroom vanity units to wall mounted countertop basin units. If we had to choose our favourite however (and bear in mind, it's not an easy choice), it would have to be this Roper Rhodes Scheme 800mm wall mounted unit. We're lovers of all things wall-mounted, thanks to their ability to instantly add something a little special to a bathroom without going overboard, and our love for wall mounted countertop units is no different.
Yes, it's a little more expensive, but you're essentially getting a stunning countertop basin, as well as a wall hung vanity unit in one. Plus, this product comes in six different finishes, each as stylish as the next. Choose from Gloss White, Gloss Light Grey, Matt Carbon, Matt Light Clay, Umbra and Gloss Dark Clay. And the decisions don't stop there! Choose from a choice of 14 different handles, a choice of three vessel basins, optional cabinet lighting kit and optional storage boxes. The drawers are all soft close, and every combination is as stylish and sleek as the next - there's no such thing as a wrong choice when it comes to this Roper Rhodes model.