Bathroom wall panels are an excellent way to upgrade your bathroom decor. They are the perfect, stylish alternative to tiles; think beautiful patterns, vibrant colours and subtle textures adding wow factor to your space. Decorate the walls of your entire bathroom, behind the bath or inside your shower enclosure for a unique focal point in your room which you'll enjoy time and time again. 
In this guide we'll explain exactly what bathroom wall panels are, what you need to consider when choosing them and also how to install them yourself.
What are bathroom wall panels?
Bathroom wall panels are a breath of fresh air when it comes to decorating your bathroom. Often referred to as shower panels or wet walls, they offer a hardwearing, 100% waterproof bathroom wall solution or alternative to tiles that are long-lasting, fuss-free and easy to install. 
Each panel is sold in standard sizes of 2.4m (or 2400mm) in height with up to 2 width measurements to choose from depending on the size of the wall you are covering. They can also be cut or trimmed to size with DIY tools making it easy to find the perfect fit for your space. 
These panels come in a variety of styles from classic marble finishes, rustic wooden looks or textured concrete effects to more glossy and opulent styles with metallic and sparkly accents. There's such a wonderful selection to choose from and definitely a style to suit all bathroom aesthetics. 
Fancy updating your bath at the same time? Check out our article: 7 Beautiful Bath Panel Ideas.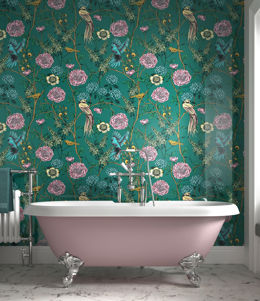 What are the different types of bathroom wall panels? 
There are four main types of panel for your bathroom - each with a unique set of properties which can also dictate the styling you can adopt. 
Let's look at each one in more detail. 
Laminate
Laminate panels are manufactured using an FSC certified exterior grade MDF core which is bonded to high pressure laminate. These panels usually require a watertight trim applied to each outer edge during installation. 
The laminate comes as either a Proclick or Square Cut panel type which creates a seamless, almost invisible joint between the panels. It also makes installation easier through the click design. More on this to come below. 
Laminate is used for the more luxurious finishes of marble, terrazzo and matte or gloss slate designs. 
Compact Tile 
Compact Tile panelling provides a tile effect in a range of colours and patterns - from natural white and stone effect to more vibrant colours. 
It is made from a strong composite material that is embossed to provide the finished look. This is the closest looking to natural tiling and there's no grout in sight - which also means there's no need to replace or maintain your grout for years to come! Bonus! 
With this style, it's often necessary to add a trim to all outer edges and corners to ensure they are watertight. 
PVC 
Our PVC range is suitable for all walls and ceilings in your bathroom, shower room, ensuite, cloakroom and even food hygiene areas like your kitchen, utility room and conservatory. They offer an easy to fit and maintain panelling system in high gloss and come in a variety of designs and colours from chic marble to shimmering diamond.
These panels work with a tongue and groove fitting design so simply click together on your chosen wall using just a touch of sanitary silicone for a watertight finish. They have a hollow core which means they also act as a layer of insulation on your wall so you get a warmer surface and less condensation.
Acrylic 
These 100% waterproof panels are manufactured from a 4mm acrylic sheet that is rear printed to create a polished gloss-like finish. Unlike laminate they don't require any trims, you simply join the panels together with sealant. 
Acrylic panels are most commonly used to inject colour into a bathroom space either via a colour block or through more invigorating patterns and prints. What's even more exciting is that solid colour panels can be printed to match any colour of your choice so you can really get a personal touch into your aesthetic. And for something truly bespoke, acrylic panels can be fully customisable meaning you can print any image of your choice on to them before installation.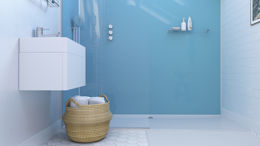 What are the main advantages of bathroom wall panels? 
Still not sure if this is the way to go? Or, wondering if tiles are more suitable for you? Let's take a look at just some of the reasons why bathroom wall panels are so great! 
Stylish
Choosing to decorate all or a section of your wall with these panels opens up a plethora of styles and can really change the whole look and feel of your space. We love that you also have the option to create a fully bespoke wall from a beloved image or find the colour of your choice giving endless possibilities for decorating. 
Waterproof
Nothing is more necessary in the bathroom as the last thing you want is mould or damp building up on your wall behind the shower or bath. But that's the beauty of the technology used for all types of bathroom wall panels, they have engineered a full proof system to ensure water stays out and your walls look fabulous for years to come. 
Easy installation & maintenance 
Probably one of the best advantages to this product is the minimal maintenance once installed. The non-porous surface means it will always look as good as it did when it first went up. The surface is also really easy to wipe clean and mould resistant. There's also no grouting so you never have to worry about the time consuming job of replacing or refreshing smelly, dirty grouting! 
Cost-effective 
As they are a long-lasting and durable product, bathroom wall panels make for a really cost effective solution with guarantees of up to 30 years on some products. In all cases, you can expect these panels to last around 10 years or more. But if you fancy a change, you can always update the panels fuss-free. No smashing up tiles and weeks of building work to get the look you want. These will go up in just a couple of hours. 
Sustainable 
With sustainability on the mind, it's also really positive that the Showerwall laminate panels we will be stocking are manufactured using an FSC certified exterior grade MDF core, guaranteeing that the timber used is harvested from responsibly managed forests and other controlled sources.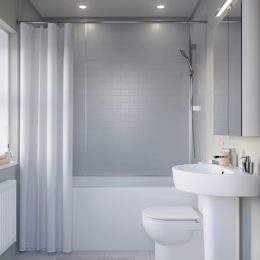 Can you fit them over tiles? 
Absolutely! These panels are designed to fit to a bare wall or over your tiles which makes them so much more appealing. 
To make sure you get the best results from your panels, they are ideally placed on smooth, fresh plastered walls but because of their construction it is not always necessary for your wall to be in this condition. 
So, as long as your tiles have been cleaned and degreased then these panels are ready to go.
How to install bathroom wall panels 
Let's take a look at how to install these bathroom wall panels. 
One of the main advantages of these products is that they are relatively easy to install. And, with the right tools at home, we're confident you'll be able to do it yourself. 
Bear in mind, though, that depending on the size of your space, there may be some cutting and trimming of the panels needed. This can usually be done with either a hand saw, jigsaw or circular saw but be sure you are able to handle this type of equipment with ease and take all the safety precautions necessary before carrying out the work. 
We would always recommend asking a professional to help with larger installation jobs like this to make sure that you get the best out of your product. 
Here's a pre-installation checklist
Panels must be kept flat prior to installation to ensure they don't bow. Do not store them upright leaning against the wall. Always flat on the floor. 

Be careful when unpacking the products. If you are using a stanley knife to cut the cardboard, be sure to use it at an angle away from your body. This will make sure you also don't nip the panels inside the box

Let the products sit for 24 hours before installing to give them time to acclimatise

Check for defects on all the panels before installing 

Do not remove the protective coating before you have fitted the panels

If you're not using a pre-compiled installation kit, make sure you have enough sealant and adhesive.

You'll need around one tube per panel. 
Equipment you'll need
Safety glasses

Safety gloves

Dust Mask 

Safety footwear 

Jigsaw, circular saw or hand saw (laminate only) 

Measuring tape 

Spirit level 

Drill 

Sawhorse/bench 

Combination square 

Sealant gun 

Suction cups (optional) 

Adhesive 

Sealant 

Cleaning wipes/cloth 

Masking tape 

Pencil 
*If you don't feel comfortable using the equipment above, we would recommend asking the advice of a registered plumber for installation.* 
Jump to our installation guides below. 
---
Laminate Bathroom Wall Panels - Installation Guide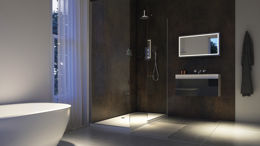 Prep the walls: make sure they are clean, dry, smooth and plumb and that tiles have been degreased.

Check the levels on your walls and bath if you are installing behind.

If you are applying behind a bath, you can also use the Showerwall

Sureseal strips

(a four point sealing system at the base of the panel) for added strength. These will need to be attached before you begin installing the panels. 

For panels installed behind showers or within shower enclosures, you'll need to allow for additional cutting to fit behind exposed values etc. 

Measure the height required for panel 1 and cut the panel to fit with either a hand saw, jigsaw or circular saw. Always cut with the decor side up to avoid chipping. 

Run a line of adhesive down the internal corner of the wall and fix the corner trim to the wall. Check that it's level. 

Measure the width you require allowing 15mm for the corner. Then cut to fit. 

Attach the end cap to the panel using sealant.

Apply sealant to the Sureseal strip at the base of the wall and corner trim and 6mm beads of adhesive to the wall in snake-like lines.

When fitting the panel to the wall, make sure the bottom edge is aligned with the strip at the base and then line up into the corner trim. 

For the next panel, cut to size at the tongue edge to remove it so that it fits into the corner trim. 

Repeat the sealant and adhesive instructions to fit to the wall. Use suction cups if it's easier to navigate. Make sure the panel fits neatly into the corner trim. 

When fitting additional wall panels. Remember to allow 15mm for a corner trim if needed. 

Always measure the panel width needed from the panel edge and not the tongue profile. 

Use the tongue and groove fitting by placing sealant on the edge of the loose panel and then slide in to connect with the fitted panel. 

Remember to attach the end cap to the final panel and always seal the expansion gap at the sealing edge to ensure it is watertight. 
---
Acrylic Bathroom Wall Panels - Installation Guide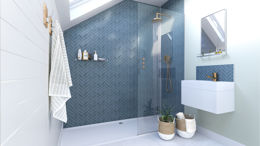 If installing on a shower wall, first measure the width, height and location of the water supply. Then measure and cut panel one accordingly. 

Acrylic panels can be cut using a circular saw or a jigsaw. Refer to the full installation instructions from your supplier for guidance on blades. 

Measure your water supply cut outs and cut larger than required to allow for expansion. Cut any square holes by drilling a circular hole in each corner first as sharp 90 degree angles can crack the acrylic. 

Apply vertical beads of sealant to the wall around 100ml apart. Fix the panel to the wall allowing a 3mm expansion gap at the internal corner. Press the panel to the wall at regular intervals using a straight edge to fix firmly. 

Follow the same sealant instructions to fix panel 2 to the wall remembering to allow a 3mm expansion gap at the internal corner facing panel 1. Use suction cups to help if this is easier. 

Apply sealant along the internal corner, shower tray and profile.
---
PVC Bathroom Wall Panels - Installation Guide
Check walls and ceilings are level and no adjustments are needed to the panel sizing. 

Cut your panels to size and drill your holes for water supply and valves if needed. Remember to measure and cut around the shower profile if you intend to do more of the room. Be sure to fix shower screens after you have installed the panelling to make sure they are watertight and to avoid any leakages.

Apply a bead of waterproof adhesive all the way down the corner profile trim and fix it to the internal corner. 

Do a dry fit of the panels into the corner profile before adding any sealant or adhesive to ensure it fits correctly. 

Apply a bead of sealant down the corner profile on the side of the panel you are fixing to the wall. 

Add adhesive to the entire area of the wall in long snake-like trails. Then attach the panel to the wall making sure it aligns into the corner profile. 

For additional panels, use the tongue and groove joint to fix together by running a small bead of sealant to the fixed panel and then gently feed the tongue into the groove until neatly in place. The sealant will provide an extra watertight fixture. 

Run sealant along all exposed edges so it looks neat and tidy. 
---
Want to know more about the different types of wall panelling for your bathroom? Head on over to our article: Bathroom Wall Panelling Ideas
We hope this buying guide has been useful to you and you're ready to make a decision about the wall panels you'll love for your space. We're very excited to be launching a comprehensive range of styles and designs available to buy right here at Drench very soon! 
Sign up to our mailing list below to make sure you're the first to hear!