Here at Drench, we love nothing more than making a few home improvements - and there's really no better excuse than the arrival of a new season. But it's more important than ever to think about creating eco-friendly homes when we're making these updates, to not only help protect the environment but to make your home more energy efficient also. 
Being eco-friendly means that something is renewable, recyclable or comes from a similar source. There are small changes we can adopt especially when it comes to decor that make a huge impact on our homes - and create positive change for the environment. 
It can be a little daunting to figure out what you can and can't do in your home. And with so much emphasis placed on sustainability these days, you know you want to get it right the first time around. To help, we've put together these tips on how you can incorporate a few simple updates which will go a long way to making your home more eco-friendly this season. 
1. The 'R' principle
Thinking more sustainably about your interiors doesn't need to become overwhelming and we encourage you to adopt the 'R' principle when considering updates. 
Reduce

Reuse

Recycle

Restore 
Using these as a reference will guide you on the right path to making better, more sustainable  choices that will help to protect rather than negatively impact the environment. 
Let's consider some more specific updates. 
2. Bedroom Wall Panelling 
These are a wonderful way to update decor without the need for a major refurb. They can be added to your existing wall to provide a new dimension to your design - and work in the bedroom, bathroom, living room and pretty much any part of your home. 
You will notice lots of influencers and enthusiasts using this trend as a way to champion sustainable interior design.
We love this bedroom panelling by @edwardian_vignette - it's stunning and so simple! 
Depending on the scope of the project you are looking to carry out, you can easily use reclaimed wood, offcuts or look for sustainably sourced wood to create your design. You can also opt for MDF panelling which is also much better for the environment as it is manufactured using wood fibres or shavings that would otherwise be discarded. 
Have a read of our Bathroom Wall Panelling Ideas for more advice on ways to incorporate this trend into your home.
3. Bathroom Upgrades 
Fancy a few upgrades to your bathroom this autumn? Well, it's one area of the home that is relatively simple to make more sustainable and environmentally friendly - and it's kind of our favourite thing, too. 
With the right products, you can create an eco-friendly bathroom that's also going to save you money, energy and water. 
Unfortunately, water wastage has become a real concern for the environment but using too much water without realising is easily done. And it's been estimated that the average person in the UK uses approximately 150 litres of water a day, with demand currently growing at 1% per year. 
So, what can we do in the bathroom to make a more eco-friendly home overall? 
Most of us love a daily shower - and there's nothing wrong with that. But it's considered one if not the biggest usage of water in the home. Luckily, it's also where you can easily decrease your water bills by investing in a water-saving shower head.
Aerator shower heads, for example, mix air with the water flow to create larger droplets using up to 50% less water. Flow regulators screw into your shower hose and control the flow of water, reducing the maximum flow by around 5-10 litres per minute. Homes with high levels of water pressure will likely use more water than required in the shower so using a flow regulator is a great way to save money without compromising on your shower experience.
Find out more about how water-saving shower heads can help reduce water and energy bills and help the environment. 
Prefer baths to showers? You can still make changes to be more environmentally conscious. Choosing a smaller sized bath or a shower bath which tends to have smaller dimensions than a freestanding option will require less water to fill so can help to reduce water wastage also. Secondly, acrylic baths are also good for retaining heat so keeping water warmer for longer aiming to reduce the need to top up your hot water while you soak.
And the savings don't stop there - even the toilet you choose can have a positive impact on the environment. 
Modern toilets operate with a dual flush technology meaning you have two options to flush the loo. The smaller flush (or extra flush button) has the capabilities to reduce the water used to flush by up to 50%. 
Rimless designs also save on water costs thanks to the shape needing less water to flush overall and they are much more hygienic so a lot easier to maintain and clean. 
Need more eco-friendly home ideas for the bathroom? Read our guide.
4. The Light Switch 
One of the simplest ways you can conserve energy in the home which contributes positively to the environment is by switching your lights to LEDs. This type of bulb lasts much longer than traditional halogen bulbs so there is less need to replace them, meaning less waste for the planet to deal with. 
The average home has plenty of lights that need bulbs and each one of those is contributing to your energy bills. LED technology uses up to 90% less energy offering the best solution for the home and a significant reduction in CO2 emissions. 
Using less energy means lower bills for you. But it's also great for the environment too by reducing our overall energy consumption. And because LEDs are much brighter than halogen bulbs, you probably won't need as many around the house - another bonus. 
This combined makes them a great choice for developing your eco-friendly home. 
Need ideas for cheap home improvements next? We have just the guide. 
5. Paint it Right 
A fresh lick of paint is probably one of the first things you think about when considering home improvements. But how sustainable is paint and are there better brands to go for when thinking about the impact on the environment?
First of all, paint in itself has often been criticised for its damaging properties when it comes to the environment with landfill waste and chemical emissions in production among the reasons why. 
However, there are a few things to look out for when choosing paint which can mean a more sustainable approach to interior design. 
Choosing water-based products over solvent based products. These have lower VOCs (Volatile Organic Compounds or gases emitted into the atmosphere) so have a significantly lower environmental impact. 

Carbon-absorbing paint. These are environmentally friendly paints that actually work to purify the air by reacting with carbon dioxide and absorbing it. 

Non toxic paints. These are produced in a more environmentally friendly way and contain no nasties.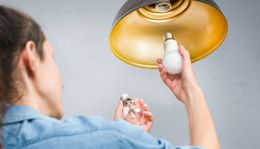 If you're not sure whether or not the product is made with sustainability in mind then here's what you need to look out for. 
6. Look for the Credentials
Look out for those brands which are sustainable or actively bettering their selection to include more eco-friendly products. Products will be labelled in a particular way if they have been consciously constructed, sourced or created. 
Look out for the following logos or terms on packaging and websites. 
This means that the wood is from a forest that is being managed to preserve biological diversity and to strict environmental, social and economic standards 
These are verified companies working to the highest standards of social and environmental responsibility
Only textile products that contain a minimum of 70% organic fibres receive the GOTS credential. 
Products which contain a low amount of chemical emissions into the atmosphere. 
7. Energy Efficiency Check 
Simple updates and modifications around the home will help to conserve energy, minimise emissions and save you lots of money along the way. 
Unplugging electronics on standby and turning your thermostat down by 1 degree are all expert tips on how to save energy without really needing to do much at all. 
But if you're really keen to reduce your carbon footprint and also reduce those monthly heating bills then it's a good idea to check if your home is properly insulated to reduce heat loss. 
Start with draught-proofing your home by fixing draught excluders around doors and windows - you basically want to identify any gaps where heat is escaping and close them up. 
To go even further, consider if you need cavity wall insulation - especially if your home is older than the 90s. Most homes built after this will already have it as standard but for older homes, it can be a real issue for heat loss through walls. 
You may also need to update your roof or loft insulation for maximum effect. This can be done by yourself as long as there are no structural or damp issues but always seek a professional's advice if you're not sure. 
Finally, there are massive savings to be had just by fitting your hot water cylinder with an insulating jacket reducing carbon dioxide emissions and saving you money in the process. 
These are just some of the small steps you can make at home to be more energy efficient and save money. 
8. Responsible purchases 
Finally, think twice before buying new, especially when it comes to smaller fast fashion and decor items that you may want to throw away next season. These products have to go somewhere and unfortunately the landfill crisis is such that we're drastically running out of space. 
Consider upcycling your existing products or furniture or seek out antiques and vintage items that could work in your interior. There's that age-old saying: "One man's trash is another man's treasure…" and it's so true when it comes to decor. You may see something in one piece that another person may not.
And if you do buy new, then try to consider buying just once - for the long term. Find pieces that offer quality and luxury and will stand the test of time.
---
At Drench, we are proud of the quality sanitaryware and accessories that we stock - choosing only the very best, quality brands. We know you'll buy less, but love it for a lifetime. 
If you need help choosing the right products for your bathroom then do not hesitate in contacting our Help Hub team who will be able to offer solutions. Starting from scratch? Check out our 3D Design Service for a full bathroom layout to work from.