There's something about the ease of a walk-in shower that we just can't get over. No more careful climbs in and out of a bathtub dangerously looking for the bath mat to avoid a slip or fall. Just gliding like a swan in and out of a beautifully designed enclosure effortlessly enjoying your morning or evening showering ritual. 
Sounds like your idea of heaven? You'll love our top ten reasons why we're falling in love with walk-in showers all over again.
1. Life of luxury
First of all, if it's luxury you're after then a walk-in shower is the dream. Modern and spacious designs with all the mod-cons to make your experience the best it can be. Minimalist glass panels offer a barely there look directing all the focus on to your sleek shower kit and stylish enclosure. A walk in shower gives you the versatility to create a focal point in your bathroom that adds wow factor.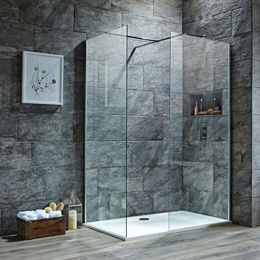 2. Works for any size space 
Whether you have a small or large space, you can make a walk-in shower work. Thankfully, there are curved, square and rectangular designs which make it easy to install in obscure and quirky rooms, as well as the usual box room. In smaller bathrooms, utilising a corner helps to maximise space. Or, consider any alcoves that are already in situ or areas in your bathroom where you could create one as these make a great starting off point for a walk-in shower. And, if your layout allows, a more unusual yet popular choice is to create a shower area that doesn't have glass panels and just utilises walls. Either way, it's easy for everyone to enjoy a real spa-like oasis at home.
3. Match your style 
The beauty of a walk-in shower doesn't end there. You can easily match a walk-in shower enclosure to your aesthetic of choice. With black, brushed brass, chrome and even frameless finishes guaranteed to suit all bathrooms. More of a traditional space? You can still incorporate a walk-in shower by choosing one of our beautiful traditional shower heads or complete shower kits to bring period styling through.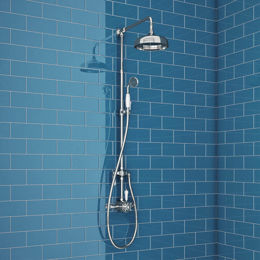 4. Easy to clean 
There's nothing better than a sparkling clean shower to step into to revive and refresh after a long hard day. And that's just another reason why we love a walk-in shower, the easy-to clean and fuss-free maintenance that comes with one. Access to clean your shower tray and glass panels is so much simpler that you might even be tempted to clean after every use! Our tip, at the end of your shower, have a quick wash round the panels, wall and tray with the shower head to get rid of any leftover soap or strands of hair. 
5. Install it yourself 
If you already have a shower area in your home, upgrading to a walk-in shower is not too much of a challenge for a novice DIYer. However, if you're starting from scratch you might want to consider asking a plumber or builder to help out to ensure the layout is the best and the shower can be installed correctly, especially if you're considering installing an electric shower. 
6. A boost to your property 
Walk-in showers are a sort-after addition to any bathroom - and for any potential buyers out there, it really adds to the overall appeal of your property. So, if you decide to sell in the future you are definitely adding value to your home. Modern bathroom spaces or well executed traditional spaces can be the make or break with viewers looking to make an offer. But even if you are not improving your bathroom to put it on the market, you will certainly feel like you've given a boost to your property and you can enjoy it yourself! 
7. Safe and sound 
A walk-in shower is a really safe and accessible option for those who struggle with mobility in the bathroom. There are special assistance features and equipment which can be easily installed in a walk-in enclosure such as seats and handrails making showering a pleasure rather than a challenge. You have options to make a wider entry point or have no door at all and there are also non-slip shower trays to ensure safety entering and exiting the shower. 
8. Price points 
You'll be pleased to know that walk-in showers are available at a number of price points and you can be safe in the knowledge that all the products stocked here at Drench are of the highest quality handpicked from the best brands. One of our most popular brands, Harbour has plenty of options - here are some of our favourites.
9. Plenty of choice 
And you really will not be stuck for choice when it comes to choosing a walk-in shower. Once you have decided on the shape and size of the structure and style of the glass panels and shower tray, you can then decide on the stunning shower kit that will complete the overall look. Now we're getting jealous about your exciting project ahead!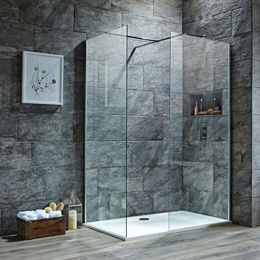 10. Clog no more 
This isn't as glamorous as some of our other reasons, but let this be a lasting thought! No one wants to spend any of their free time unclogging shower drains, and luckily with a walk-in shower you will probably spend less time doing this. Baths tend to drain slower and it can be harder to gain access to unclog the debris. Most shower trays have drains where you can remove the plugs much easier to get to the source of the problem quicker! 
Read more about walk-in showers as well as wet room ideas in our handy buying guide: Wet room & walk-in shower ideas. Browse our range of walk-in showers for more inspiration. Drench also offers free delivery on orders over £250 and a 90-day exchange policy.