How Much Does an Outdoor Shower Cost?
It can cost anywhere from £300 to £5,000 to install an outdoor shower, depending on how simple or advanced you'd like it. You can buy shower rail kits for as little as £50, then you will have to take into consideration plumbing costs, a drainage system and flooring. 
Flooring
Tom Drake, DIY Expert here at Drench has some tips on what flooring works best for outdoor showers:
"We recommend going for mosaic tiles for your outdoor shower floor, as they're non-porous, anti-slip, and will also look great in a garden setting. You can also go for other flooring options such as concrete and stone tiles, as long as you ensure that these materials are slip-resistant and won't rot over time. Sealed wooden decking can also work and provide a more homely, rustic appeal to your outdoor shower."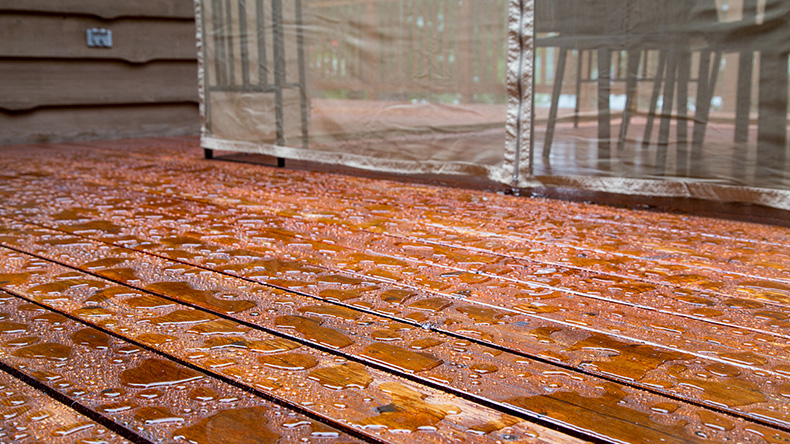 Drainage
It's important to keep the drainage system efficient to prevent a build-up of water, so try installing your shower on a gradient to keep residue water and puddles to a minimum. The water should also drain away from the house's structure to prevent any damage. 
It can be suitable to let your water fall directly into the soil, however this can cause a build-up of water and is not recommended for heavy clay soils. Therefore, most outdoor showers use dry wells to drain the water into the ground and easily disperse the flow of water.  Dry wells are essentially a layer of gravel that the wastewater filters through, and should be around 4 feet deep and 16 inches beyond the shower perimeter to ensure efficient drainage.
What's the Best Shower to Use?
Shower rail kits are a great option for outdoor showers as they're easy to operate, adjustable, and suitable for low budgets. We suggest going for a stainless steel finish as this is more robust than matt black or brass, and will resist rust and wear & tear from various weather conditions. 
A shower handset is a great accessory for an outdoor shower and can help when rinsing things down, whether it's a pet, muddy boots or any sandy equipment if you happen to live near a beach. You should also aim to install your shower as close to your house as possible, to ensure the plumbing work is more straightforward.
Water Pressure
It's worth checking if you have high enough water pressure to install an outdoor shower, as not all showers will work in every home. If you have low water pressure, there are things you can do to improve it. Firstly, ensure your shower head is clean and not full of limescale which could be preventing some of the nozzles from carrying water. You can also install flow regulators or a shower pump if you need higher pressure.
However, the best option to increase your water pressure is by choosing a water-saving shower head; these infuse air and water, so still ensure a powerful and efficient flow of water whilst keeping costs down. Take a look at our blog exploring water-saving shower heads here.
Outdoor Shower Enclosures and Curtains
There are different options for outdoor shower enclosures: you can choose to have a completely open shower, a curtain, or put some walls up to offer an enclosure. If you would like to add privacy to your outdoor shower space, a shower curtain can be a great option and will give you that extra degree of security. 
A more modern and luxury option will be an open enclosure around your shower that offers a degree of privacy but also ensures that the shower is easily accessible. Outdoor shower enclosures are a great choice if you want to install storage around your shower to keep bathroom essentials close with wall-mounted storage. Check out the shower enclosure below for some rustic outdoor shower design inspiration.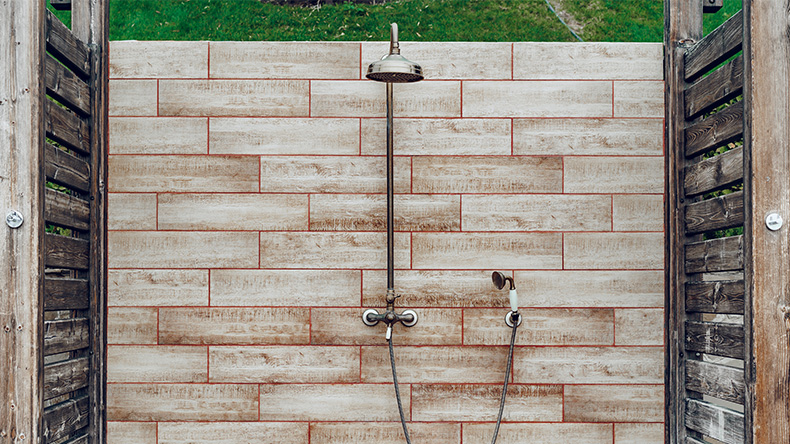 Outdoor Shower Accessories
If your outdoor shower has some walls around it, it's a great idea to install a couple of shelves or pop some caddies on the walls to store your shower products. Most shower gel and shampoo bottles are water and weather resistant so will be fine kept outside - unless of course you're due a storm or frost!
Other great shower accessories include waterproof speakers, hooks to hang towels on, a mirror, mosaic tiles, an aesthetic pathway and some plants to go around the space. These elements will help to create an inviting, modern sanctuary.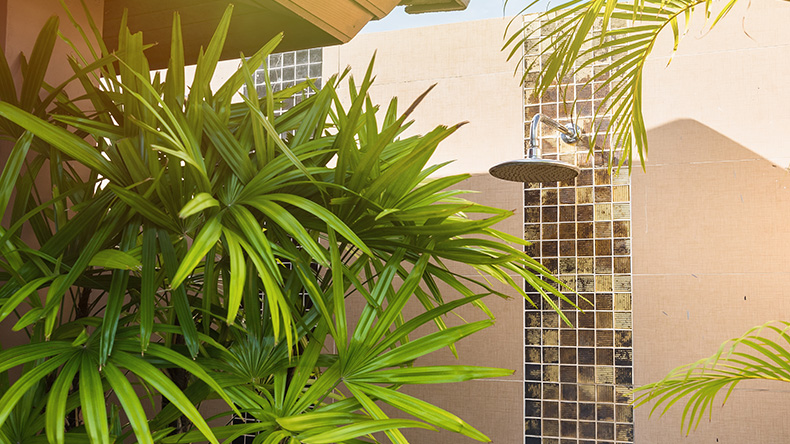 Dog Showers
Google Trends data reveals that searches for 'dog showers' have increased by 117% from January 2020 to January 2021. This suggests that more families are installing dog showers inside and outside of the home as they provide the perfect solution to keep muddy paws off carpets and cool down our pets. It's much easier to bathe our pets outside as it's a cleaner, simpler alternative than trying to coerce them into a bath or shower cubicle - that's just asking for trouble!
---
Outdoor showers aren't just for countries with warmer climates, they can be perfect all year round for when you want to cool down after exercise, rinse off sandy equipment or get your pets involved. We hope this guide has given you some design inspiration to get started with an outdoor shower of your own.