The popularity of shower glass doors is ever increasing and the past popularity of shower curtains is rapidly fading. Styles and preferences inevitably change over time, but usually not without good reason. Shower cubicles are far more hygienic, safer and durable than a shower curtain over a bath. 
A greater initial expense is required for a shower enclosure, but with many shower doors provided with a lifetime guarantee, it's easy to see why their popularity is soaring.
Shower enclosures and cubicles can be the crowning glory and a true sanctuary in any restroom. As fantastic as they are there can be one issue - cleaning shower glass can be a tedious and an all too frequently required job.
Yet, as much as we all dislike this household chore, it really is an essential part of the upkeep of your bathroom. Both for aesthetic and hygienic reasons. Plus, there's a reason shower glass enclosures tend to come with a long manufacturer's guarantee – they're intended to last!
What happens when shower glass isn't cleaned enough?
Think about your health – Bathrooms tend to encounter and keep the most moisture of all the rooms in the home. Precautions are an important aspect in preventing issues as a result of this. Extractor fans and opened windows have a big part to play.
Such preventative measures alone aren't always enough. Excess moisture can lead to issues with bacteria, mould and mildew on and around your shower glass. The areas in your home with the most moisture will be the most susceptible to issues.
This in turn can have health implications ranging from an irritable throat to various lung diseases and more. With that in mind, keeping the various uninvited bathroom residents at bay is of paramount importance.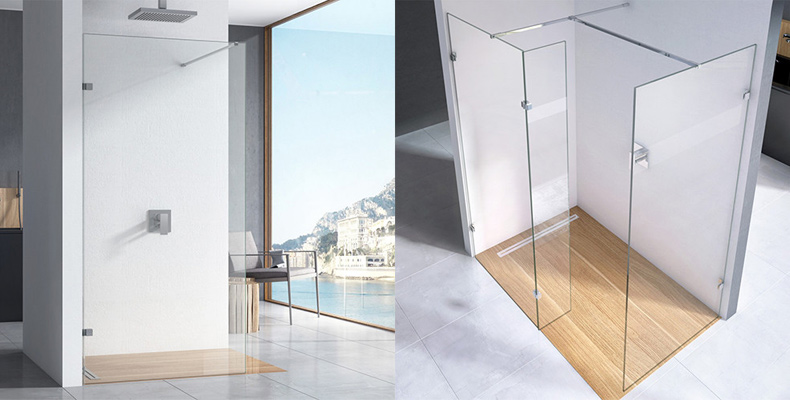 Looks aren't everything but they help – Why buy a beautiful brand new shower glass enclosure that looks stunning when it arrives, only for it all to go downhill once installed and never look quite the same?
Less frequent cleaning doesn't mean less cleaning - If a proper clean of your shower enclosure is a rarity in your home and it's usually just a splash of warm, soapy water once in a while, then getting your shower glass doors to their former glory can be a near impossible task.
Even with hours of scrubbing, without sufficient know how and the appropriate cleaning materials, your efforts are likely to be wasted.
How to get your shower glass doors looking like new?
The go-to products for many tend to be the branded glass and shower cleaners available from various supermarkets. Though anyone who's cleaned particularly dirty shower glass will likely have realised that shop bought cleaners can be a bit of a lottery.
Many contain ammonia which is a fantastic cleaning agent. But, ammonia itself is an irritant and has been associated with a variety of minor ailments to, in rare cases, serious health issues. It is important to note that this is usually in its pure form, unlike the household cleaners in question. Many of the more serious health implications are as a result of long term exposure.
That's not to say that conventional cleaners should always be avoided, one such cleaner which could be used is Astonish Daily Shower Cleaner. It not only cleans but also helps to prevent limescale build up. For those conscious of how the cleaners they use at home have been formulated, this cleaner is certified by both Cruelty Free International and the Vegan Society.
The possible implications of the ingredients in the cleaning products you're using in your home is something to take into consideration. Especially when you consider that you should be cleaning your shower glass for years to come.
So, before you rush out to your nearest supermarket, let's take a look at some of the alternative options available, some of which may surprise you.
Polly Shearer, interiors specialist at Drench says "to achieve a streak-free look and a beautiful finish to your shower glass, you can use ingredients you'll probably already have at home, such as white vinegar and toothpaste. Not only will you get a flawless finish, but you'll save a few extra pennies."
What do you need for perfectly clean shower glass?
        White vinegar
        Hot water
        Squeegee
        Household/ kitchen sponge
        Empty spray bottle

        

Toothpaste (optional)

        

Baking soda (optional)
White vinegar is inexpensive yet so effective for so much in the home - a mainstay for almost every household. Vinegar isn't only for food though, it can be a brilliant household cleaner. Vinegar is a natural acidic disinfectant and useful for a variety of purposes. With this in mind the possible uses for this simple household product far exceed what most realise.
For the solution there are two base ingredients.  For many will be all that is required to get the perfect sheen on your beautiful shower glass. These two ingredients are one part vinegar to one part hot water – that's it!
Tip: Open a window before mixing and spraying the solution below as although the smell won't last, it will have quite a potent smell at first.
If the solution hasn't shifted the marks and stains after the first application, you can increase the amount of vinegar mixed with the water and this should do the trick. Though it certainly isn't your only option...
Toothpaste is another household item which is not just useful for its intended purpose. Not only can it give you a minty fresh taste. Giving a fresh appearance for your shower glass is another string in its bow. With a non-gel toothpaste you can remove set in stains, although it's important to note that a cheap toothpaste is encouraged for this job. Keep the good stuff for your pearly whites.
If used, toothpaste should be used with a damp sponge. A squirt of toothpaste and a wipe over the stains should be enough. Failing this, leave the toothpaste on the shower glass for several minutes and then clean away the residue.
Hard water deposits and set in stains can be real nuisance. It's not uncommon that they'll require a little extra to shift them. There's no need to fret though, another common household wonder can be used in place of toothpaste - baking soda can be extremely useful throughout the home. It's no exception when it comes to cleaning shower glass. Basking soda is abrasive enough to lift the stains but won't scratch the glass doors. If you follow the steps below and the stains remain, it's probably time to try some baking soda.
Firstly, add three tablespoons of baking soda and a touch of water to give the solution a paste like consistency. Then apply the paste with a kitchen sponge on the required areas in a circular motion.
Follow this by grabbing yourself a squeegee – an invaluable tool for the fight against soap scum and stains on your shower doors and cleaning away the excess solution and water away.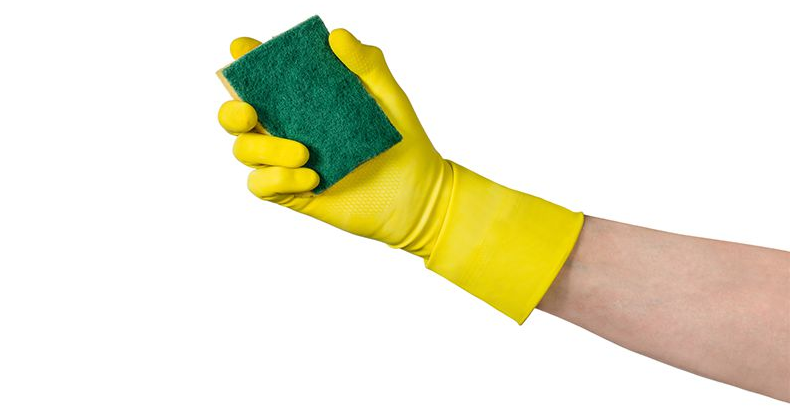 Let's break down the steps for beautifully clean shower glass…
1)    Mix one part white Vinegar with one part hot water.
2)    Spray a moderate amount of the solution using your spray bottle and leave this to stand on  the shower glass for 5 – 10 minutes or longer for particularly set in stains.
3)    Once this time has elapsed use a household sponge to wipe this down with warm water.
4)    Now it time to grab your squeegee, begin by dampening this slightly first. Your action should go from the top down. Ensuring that you wipe the edge of the squeegee after every stroke to prevent streaks on the glass.
5)    If any marks do remain you can repeat the application. Alternatively, this may be the perfect opportunity to use baking soda or toothpaste (whichever is close to hand) on any remaining stains.
6)    Be conscious that any metal finish on the doors such as the frame or the door handles which come into contact with the solution should be wiped right away to prevent any damage to the finish.
Leave it to the professionals
If you're not a fan of these home remedies, there is a trustworthy brand alternative in the form of Cramer.
Cramer's professional shower glass cleaner is environmentally friendly, bio-degradable, and works absolute wonders! Suitable for both coated and uncoated shower glass surfaces, if you're looking for something you probably can't make in your kitchen, this is the shower cleaner for you! They also have a tonne of other bathroom cleaning products if you're in need of the tools for a good spring clean.
So there you have it, a variety of options that look beyond the conventional cleaners and into your kitchen cupboards. Adding another dimension to some everyday items.
Of course, it's recommended by many manufacturers to grab your squeegee after every shower and doing so is fantastic for keeping your shower glass doors cleaner for longer.
Consequently, we hope this guide has given you a few options and makes the upkeep of your glass shower doors a little easier.