TikTok has become an interior design hub, with influencers sharing their renovations and many of us gathering inspiration from the platform. With popular hashtags such as #bathroommakeover gaining a huge 661.5M views, we are sharing what makes the perfect bathroom, according to TikTok. 
To uncover the popular trends, we analysed 100 of the top videos, across three of the popular bathroom hashtags: #bathroommakeover (661.5M views), #bathroomremodel (264.1M views), and #bathroomrenovation (100.2M views).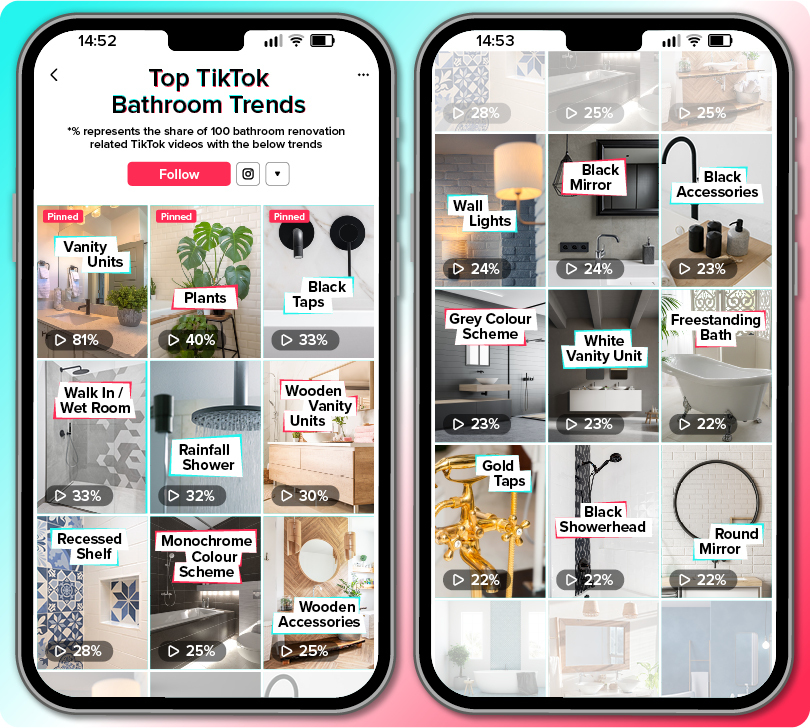 Sleek Storage: 81% of TikTokers Added Vanity Units, and 28% Installed Recessed Shelves
You can never have enough storage in a bathroom. Without storage, a bathroom can quickly look messy and cluttered. So, it's probably not so surprising to find out that a whopping 81% of TikTokers added a vanity unit to their bathroom renovation. 
Similarly, searches for vanity units on Drench.co.uk are up by 13% in the past year. The most popular vanity unit finishes found on TikTok were wooden vanity units (29%), followed by white vanity units (23%). 
However, that's not all, our research has revealed that 28% of TikTok bathrooms featured modern recessed shelving, making sleek storage the top bathroom trend. But, what exactly is a recessed shelf? 
These shelving features sit inside of the wall, rather than outside of it like conventional shelving. Which makes them ample storage solutions, saving on precious room space, not to mention they look ultra-modern. Try adding LED lights inside the shelves, or a different tile, or colour for a cool feature. 
Biophilic Bathrooms: 40% of Influencer Bathrooms Included Lush Greenery
Biophilic design is all about bringing the outdoors in. This calming trend is set to be big for the home - especially bathrooms. With the past couple of years highlighting how important it is to look after our wellbeing, biophilic bathrooms are the perfect remedy. Adding plants and natural wood elements creates an inviting sanctuary that you'll never want to leave. 
TikTok influencers are already reaping the benefits of a green bathroom, with 40% adding plants. Some TikTokers added dried grass or flowers, and even faux plants, which are great if you don't have the time for upkeep. Plus, you'll still get all the benefits of biophilic design. 
Luxurious Showering: 33% of Influencers Added Walk-in Showers 
We spend on average 30 minutes a day in our bathrooms, and with the average Brit feeling stressed 8.27 days a month, it's imperative our bathrooms are a luxurious, de-stressing experience. Which is probably why 33% of TikTok bathrooms featured a relaxing walk-in shower. 
These spa-like showers offer a larger shower area, enclosed with glass panels, which makes them sleek and deluxe. 
Searches on Drench.co.uk indicate that walk-in showers will dominate bathrooms in 2022, with baths taking a backseat. In the lead up to 2022, website searches have decreased by 35% for baths, whereas searches for walk-in showers have increased a whopping 100%. Walk-in showers are perfectly matched with unique tiles, such as herringbone or marble to create a striking feature wall. 
Pair a Walk-in Shower with a Rainfall Showerhead for the Height of Luxury
However, if you want to add to the luxury feel further, combine a walk-in shower with another popular TikTok bathroom trend – rainfall showers. 32% of the TikTok bathrooms in our study added an opulent rainfall shower. 
These shower heads are larger and are usually mounted on the ceiling for the raindrop effect. Thanks to their widespread water flow, these showers are ultra-relaxing by covering the whole body in a steady stream of water.  
Black is the New Black: Black Taps Found in a Third (33%) of TikTok Bathrooms
Black taps have been around for some time now. Despite their time as a trend, they're still proving to be ever so popular, with a third (33%) of TikTok influencers adding this tapware style to their bathroom. 
Black taps are sleek and stylish, and effortlessly create a statement, especially in a monochrome bathroom which is the top colour scheme trend (25%). 
If you didn't want to opt for a moody look, why not get glam with the second biggest tap trend – gold?  This luxurious tap style was found in 21% of popular TikTok bathrooms. Pair your gold tap with a neutral bathroom, like 13% of influencers. Use an all-white, or a greige colour scheme to make the gold really pop. 
Monochrome Bathrooms: ¼ of Influencer Bathrooms Featured a Classic Black and White Colour Scheme
Monochrome is a timeless colour scheme that adds a striking statement to any bathroom. That's probably why this black and white theme is the most popular bathroom colour scheme on TikTok, with a quarter of bathrooms including it. In addition, sales on Drench.co.uk for black items are up by 14%, indicating this trend is here to stay. 
But, what makes monochrome so popular? Black paired against white creates an amazing impact, thanks to black absorbing light whilst white reflects it – a match made in heaven. They're both timeless colours, and together they'll never go out of style, so it's perfect for years to come. 
There are countless ways to style monochrome, you could opt for an all-white bathroom with black features for a clean look. Or add an interesting statement with a black bathtub against white tiles with black grout. 
Looking for more inspiration for the home? We've analysed the top home décor trends on Instagram, which are set to be huge in 2022.