Timeless Style
Some bathroom trends come and go – others remain immortalised in the eyes of DIY and professional bathroom designers alike. And today the Drench team will be waxing lyrical about the very best of these iconic bathroom trends.
We hope that these bathroom trends inspire you in your next bathroom renovation just as they have done for millions up until this very point. You are in the awesome position to carry on these memorable bathroom trends – what will you do with this power?
And of course, you will discover everything you need to bring these wonderful bathroom décors to life in your very own home right here on our expansive online store.
Don't follow the link just yet – we know it's tempting but why not wait until we've taken you on this reminiscent rollercoaster through the very best home bathroom trends so that you can tackle our enviable stock of bathroom units and accessories with a new aesthetic eye.
Monochrome Magic
What better place to kick off our bathroom trend celebrations than with the black and white beauty achieved in monochrome bathroom designs? This style is a chance for you to harken back to a simpler yet just as decadent time in bathroom design and feel like a silent movie star every time you slip into your stunning new black and white bathroom.
The monochrome bathroom is one aesthetic that is as much in the mind as it is in the bathroom around you – and we at Drench cannot get enough of this timeless bathroom trend. The subtlety of black and white bathrooms enables you to make design statements of real volume without doing anything too outlandish. And why not top the scene off in ultimate style with a single red rose upon the vanity unit or some other sultry touch?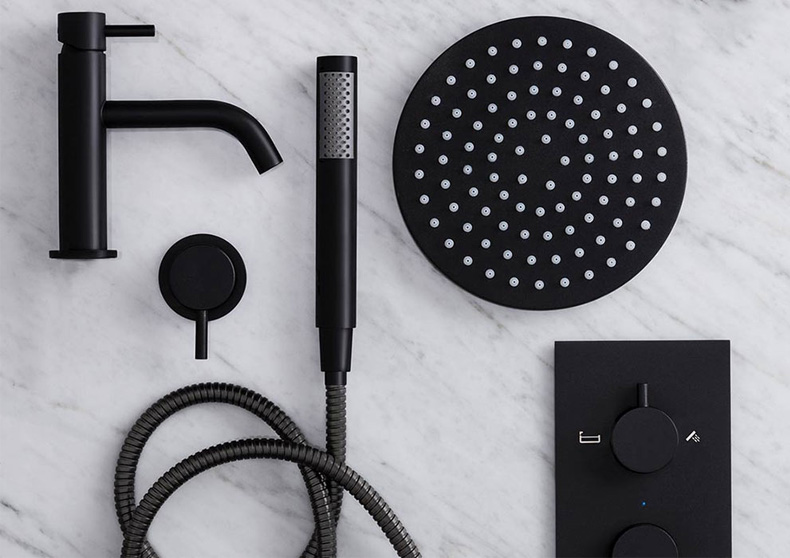 Industrial Design
Industrial design bathrooms exhibit one of the hottest bathroom trends out there right now, instigated by our ongoing focus on modern, minimal apartment spaces, as well as our undying love for anything industrial and space-age.
Industrial bathrooms boast subdued function in the most stylish format, featuring statement looks that are often punctuated by rustic furniture choices and dark, subdued colour schemes. Blended with brightness in intermittent flashes through bathroom unit detailing and decorations, the result is an urban design melody providing a homely pizzazz in a unique Bauhaus manner.
Minimalism
And as the trend toward high-rise, modern apartment spaces grows, it is not only industrial bathroom designs that maintain and add to their market relevance. It is also minimal bathroom designs that provide a key modern appeal to bathroom designers. And why not?
Minimalism is a fantastic feature to focus on when working with any smaller-sized bathroom as it provides a valuable manner of best managing the space available to you, and the appearance of that space in the most complimentary manner. This is one area in which less can definitely be more!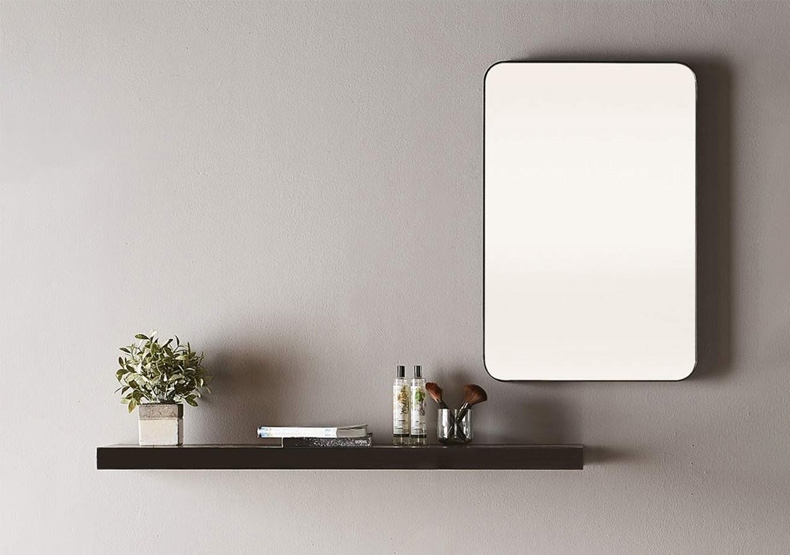 Minimal bathroom designs are also a wonderful way to intelligently draw attention to a specific facet – be it a fancy mirror, plant, family heirloom or freestanding classic bath. Just keep your bathroom tidy and free of clutter and you're halfway to having a minimal bathroom aesthetic already!
Just head here to check out our full range of mirrors – be warned, there is more than a few to choose from!
The Hotel Look
Following on fruitfully from our minimalist bathroom aesthetic, we have the hotel look bathroom.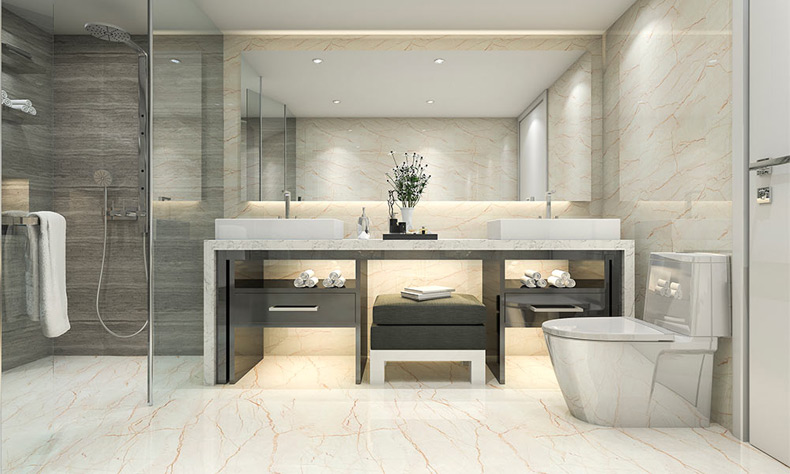 A big part of having a hotel bathroom vibe is keeping your bathroom gleaming clean to maintain that fresh, new, not-lived-in feel – that is why it is a suitable extension from our minimalist focus. But to achieve that hotel vibe, you will also want to add a select spread of decadent items that shout luxury louder than you could ever raise your voice.
Few things define hotel luxury more so than gold wall-mounted taps. And of course, they perform just as slick as they look. With ceramic disc technology, an adjustable spout and precise lever control, each use will transport you into a land of luxury. Which is exactly what you want when using a hotel bathroom!
Marble Magnificence
What kind of bathroom trend celebration would this be if we did not touch upon the marvel that is marble? It is one of the most sought-after materials by design enthusiasts in any field – and bathroom aficionados are no exception to the rule! It is such an adaptable material that can provide the pinnacle finish for a space-age industrial bathroom just as it can supplement the traditional bathroom of a regal manor house with some esteemed style.
Featuring soft close function and six fine finishes including American Walnut, Storm Grey and Windsor Oak, Crosswater has implemented its Carrara veined marble for a highly heat and dust resistant finish that is as easy to clean as it is sanitary in the first place.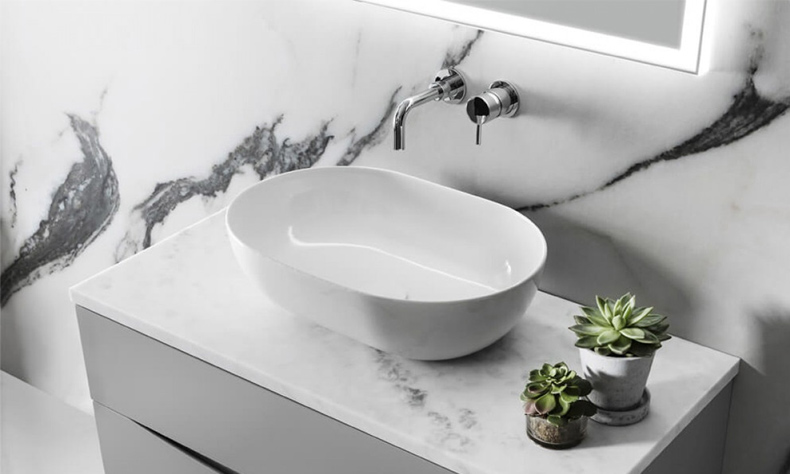 Tantalising Tiles
From one iconic bathroom material to another – bathroom tiles are trendier than ever. The general direction is exhibiting larger and darker tiles that continue to tie in perfectly with a range of bathroom aesthetics. Larger tiles not only look incredibly slick – they are also far easier to clean!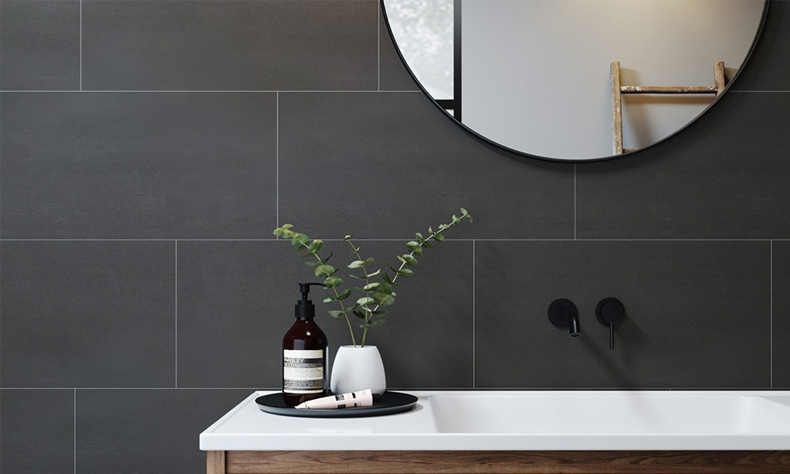 Marvellous Mirrors
The bathroom mirror is no longer just a mirror. Now, mirrors will always be an essential part of a bathroom – how else can you monitor yourself during your various grooming processes? But technology has caught up with mirrors and now a simple pane they need no longer be.
As well as using mirrors as a piece of focal artwork in your bathroom, you can also use mirrors equipped with a ridiculous amount of technology. Some will champion the simplicity of their mirrors – until they give these a go! We're talking automatically demisting, LED-lit, Bluetooth-equipped – yes, the humble bathroom mirror has evolved.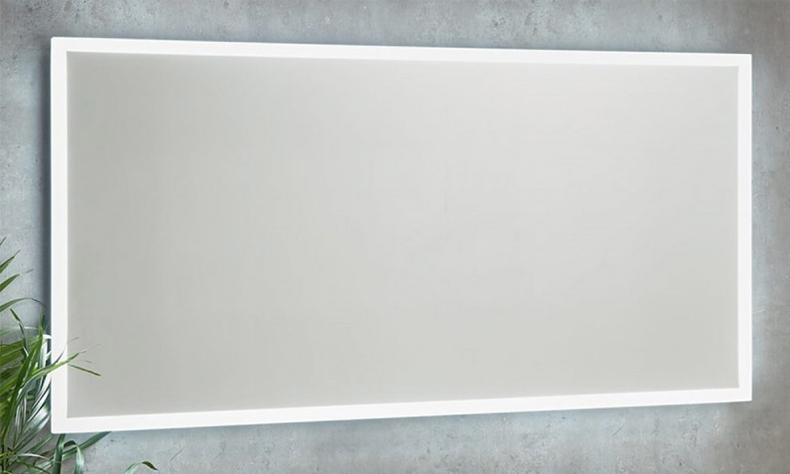 That Wonderful Wood Effect
We finish off this joyous bathroom trend feature with the wood bathroom effect. There is just something so clean and invigorating about a bathroom based around wood – and as a material it just works with everything due to the numerous types of wood finish you can get.
Whether a dark wood to round off your grey industrial cloakroom bathroom or a wonderful bright oak spread to add extra light to your brilliant white bathroom – that wonderful wood effect is all you need.
The Timeless Trends We Know and Love
Well there we have it, folks – if you were stuck for ideas for a totally new bathroom style, you're certainly spoilt for choice now!
Whether you'll head back in time with a traditional monochrome design or look into the future and tap into the progressive edge of industrial minimalism – or just pump up the luxury with a hotel bathroom aesthetic – we at Drench are here to facilitate your bathroom design dreams.
Here to Help
You are never alone in your quest for bathroom brilliance when you are dealing with Drench. We hope you enjoyed that foray into timeless bathroom trends and that you have been left with a bounty of ideas for your new bathroom design.
If you need advice on any of the concepts or products that you have seen here today, or absolutely anything else in the realm of bathroom design, then please reach out to our expert team.
Get in touch with us right here, we love to chat and cannot wait to hear from you!